Dubai is famous for its fancy activities, and riding on a dhow boat is one of them. Imagine gliding down Dubai Creek on a traditional wooden boat while enjoying stunning views of the city's skyline and landmarks. But that's not all.
A dhow cruise also offers a delightful culinary experience with a range of international and local cuisine, including vegetarian and non-vegetarian options. From family outings to romantic dinners, a dhow cruise in Dubai is perfect for any occasion. Book your cruise now and enjoy a unique experience in Dubai.
Dubai's Tall Buildings Look Amazing from a Dhow Boat Ride
One of the best parts of a dhow boat ride in Dubai is the beautiful sight of the city's tall buildings from the sea. Passengers on the boat can enjoy the beauty of the city's architecture, including the iconic Burj Khalifa, the Dubai Mall, and the Atlantis Hotel.
The sunset views are enchanting, with the sun casting a warm glow over the city as it sets over the horizon. The tranquil waters of Dubai Creek create a peaceful and serene environment, making it an ideal way to escape the bustling city and enjoy some quiet time on the water.
Delicious Culinary Options on Board.
A dhow cruise in Dubai is not just about the views but also the food. The boats have lots of different food from all over the world and from Dubai, and they have options for people who don't eat meat as well as for people who do. The food is often prepared fresh on board, and the chefs use the finest ingredients to create delicious meals that cater to all tastes. Some popular dishes include grilled meat, seafood, salads, and Arabic sweets.
The Perfect Romantic Dinner Option.
If you're looking for a nice, romantic dinner, then a dhow boat in Dubai is a good idea. The boats are decorated with dim lighting and soft music, creating a romantic ambiance for couples. You can have a yummy dinner and enjoy the stunning view of Dubai's tall buildings while on a dhow boat ride. The experience is unforgettable, and it's no wonder how cruises are popular for couples celebrating anniversaries, birthdays, and other special occasions.
Family Outings Made Easy.
A dhow cruise in Dubai is also an excellent option for families. The boats are spacious, and there is plenty of seating for everyone. Children can enjoy the sights and sounds of the city from the water, and parents can relax and unwind while enjoying some delicious food. The boats have safety equipment to keep everyone safe and cozy while traveling.
Sightseeing From a Different Perspective.
Dubai is a city of skyscrapers, but a dhow cruise offers a different perspective of the city. The boats go along Dubai Creek, an old waterway important for the city's growth.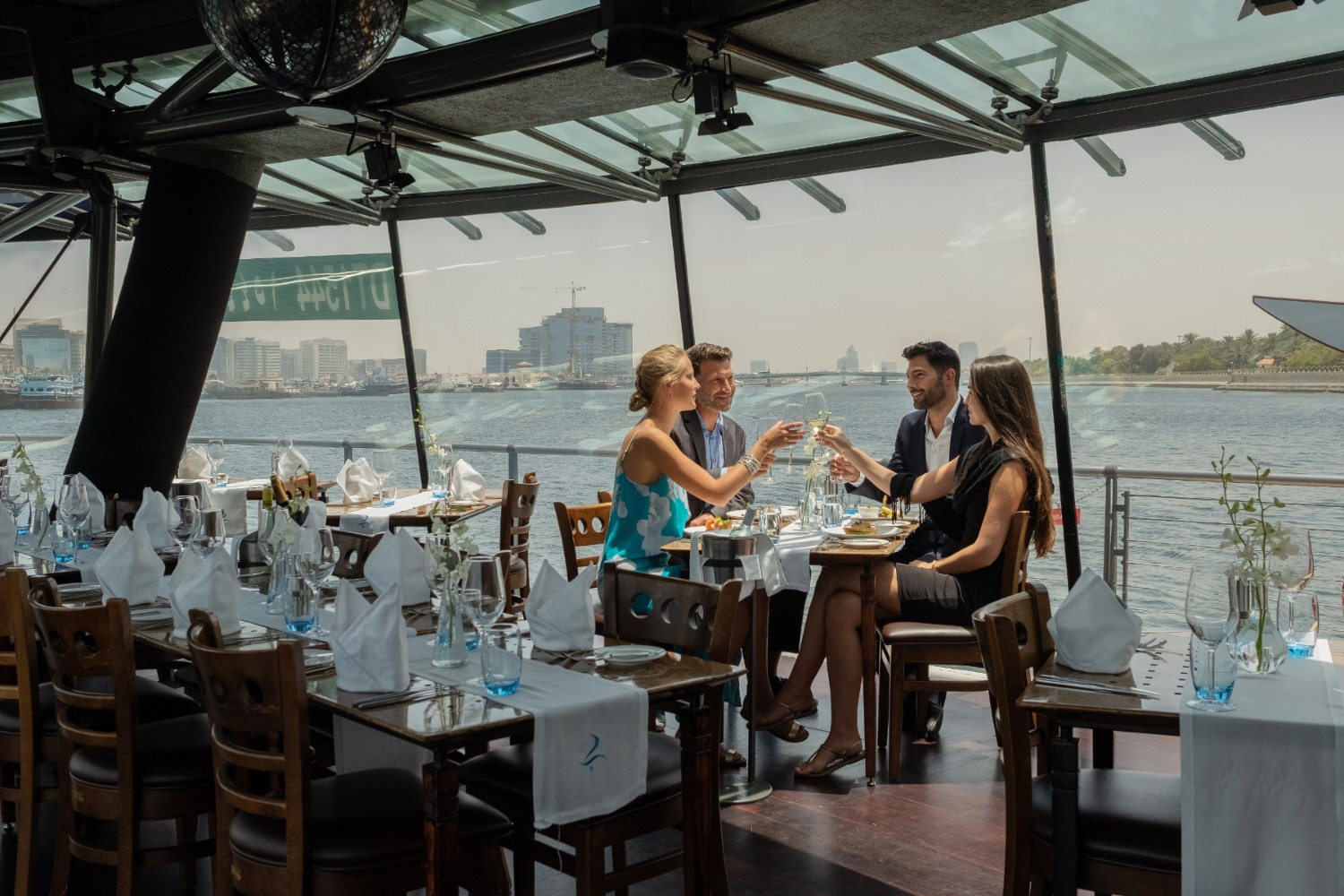 Passengers can take in the beauty of the city's old and new architecture, including the traditional souks and modern buildings. The boats also pass landmarks such as the Dubai Museum and the Heritage Village, providing a unique and educational sightseeing experience.
A Comfortable Journey With Modern Facilities.
Dhow cruises in Dubai have modern facilities, ensuring passengers have a comfortable journey. The boats have air conditioning, comfortable seating, and clean washrooms, making it a pleasant experience for everyone. The staff is also friendly and accommodating, ensuring all passengers' needs are met during the journey.
The Variety of Vegetarian and Non-vegetarian Options.
Vegetarian options include salads, hummus, grilled vegetables, and falafel, while non-vegetarian options include grilled meat, seafood, and chicken dishes. The cooks make tasty food on the boat and use really good ingredients.
They also have many sweet things and drinks like tea, coffee, and soda. Whether you are a vegetarian or a meat lover, a dhow cruise in Dubai will surely have something for everyone.
Book Desert Safari: https://dhowcruisedubai.org/
Reserving Your Dhow Boat Ride in Dubai
You can book online or through a travel agency, and there are several options, including dinner cruises, sightseeing tours, and private charters. The cost changes depending on how long the boat ride is, what's included, and what kind of boat it is.
Book ahead of time's a good idea, especially when many people want to go. Once you've booked your dhow cruise, all you need to do is sit back, relax, and enjoy the unique experience of cruising down the waters of Dubai.